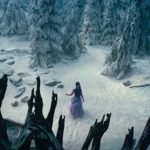 This has a very "every YA series you've ever read" feel to it by which I mean I am Into It.
Disney introduced their live-action The Nutcracker movie last Christmas, with a teaser trailer, and now we have a full length one to learn more about it. Mackenzie Foy (Twilight) is Clara, whose mother was the inventor who created the clockwork/steampunk fantasy realm she travels to. (The film is said to be inspired by E.T.A Hoffman's original story, so I don't know how much differentiation from the ballet is due to that or Disney's tendency to create its own versions of fairy tales)
Keira Knightly is the Sugarplum Fairy, Helen Mirren is Mother Ginger, and Morgan Freeman (who is not cancelled?) is Drosselmeyer. Here's the complete synopsis:
All Clara wants is a key – a one-of-a-kind key that will unlock a box that holds a priceless gift from her late mother. A golden thread, presented to her at godfather Drosselmeyer's annual holiday party, leads her to the coveted key—which promptly disappears into a strange and mysterious parallel world. It's there that Clara encounters a soldier named Phillip, a gang of mice and the regents who preside over three Realms: Land of Snowflakes, Land of Flowers and Land of Sweets. Clara and Phillip must brave the ominous Fourth Realm, home to the tyrant Mother Ginger, to retrieve Clara's key and hopefully return harmony to the unstable world.
The aesthetic is very much My Jam. The Nutcracker and The Four Realms opens in theaters November 2nd.