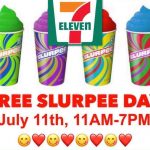 So this is happening tomorrow!! On a nice hot summer day you need to cool down…this should help. And free makes it soooo much better!
7-Eleven is giving away free Slurpee drinks on Wednesday, July 11 — or 7/11 day.


Customers can get a free small Slurpee from 11 a.m. to 7 p.m.


In addition to free drinks, 7-Eleven is also debuting the Cap'n Crunch's Crunch Berries Slurpee as a new featured flavor on Wednesday. It will be available for a limited time.
Kick back and enjoy your favorite flavor!! Happy Summer!
~Angel Donato